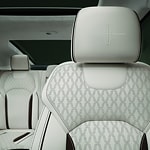 The new 2020 Lincoln MKZ is the perfect mixture of luxury and aggressive performance. A popular midsize luxury sedan, the MKZ sets a high bar for both comfort and performance.
Drivers can now truly customize the feel of their 2020 Lincoln MKZ's performance with the Adaptive Suspension feature. With Adaptive Suspension sensors automatically monitor road conditions to tailor the riding experience. Drivers can choose between Normal, Comfort, or Sport to adjust the behavior of the MKZ.
The 2020 Lincoln MKZ allows drivers to have complete control over the handling of their vehicle. Electric Power-Assist Steering (EPAS) assesses what speed the MKZ is going and adjusts steering accordingly. Lower speeds lead to more fluid steering while higher speeds enable a firmer steering experience.